This interview is a repost from SVSG CTO and AI Practice Lead Geeta Chauhan's interview in Intel Developer Zone here.
Even as a child, Geeta Chauhan was a maker at heart, producing homemade soap and candles, drawing and sewing. She was her mother's "handyman" at home, fixing anything that broke: repairing the lights, iron, the electric fuse for the house mains, and more.
Back then there was no Internet, and her family had no TV or phone growing up in New Delhi. Books, especially mystery stories and encyclopedias, fascinated her, as did science fiction movies. Geeta was fortunate that India's capital had very good libraries. On weekends and holidays, she took a 90-minute bus ride to participate in Bal Bhavan, a maker program for children where she performed science experiments and learned to create useful everyday devices such as a solar cooker that could be used at home. With a passion for biology and math, it was difficult to choose a higher education path – but eventually, she settled on Computer Science. In college, her friends called her "the walking, talking computer". She used to pore over manuals and could be seen hanging in the computer science lab at any opportunity, even skipping other classes.
Today Geeta is Head of AI Practice at Silicon Valley Software Group based in San Francisco, and CTO of DeepCloud AI, a startup building an AI-driven cloud computing platform for running decentralized applications for IoT and Web 3.0.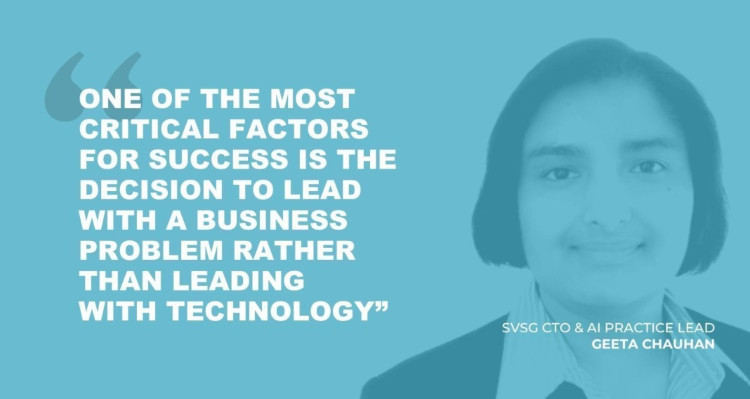 Source: How Deep Learning is Transforming the World of FinTech
What got you started in technology?
When I was in high school, the Star Trek* TV series finally arrived in India. I was fascinated by the stories, the talking computer, and the transporter. I was also an avid reader of James Bond novels, and with all the hands-on things I built growing-up, I was primed for a career in technology.
I'm fortunate to have built new products throughout my career. Early on, I joined a startup in India in the '90s when "startups" weren't even a known concept – everyone wanted to work in large companies. I built products on UNIX*, an object-oriented graphical user interface (GUI) developer tool, which is equivalent to Visual Studio* these days, with an Open Database Connectivity (ODBC) interface-like layer for integrating to databases and developer tools that made it a breeze to build apps on UNIX. Then I went on to build a strategist platform for getting a single view of the entire enterprise, a living dashboard starting from strategy definition, project management, and roll-up of all operational data. It was deployed at Hero Honda (now Hero MotoCorp), Defence Research and Development Organisation (DRDO), and other customers. I went on to become the General Manager and head of our India operations.
The second phase of my career was when I came to the US, just before the dot-com bust, and I got to see the ups and downs and every phase of the technology hypercycle. I went on to build several products, such as voice interfaces, developer tools with real-time debugging, mobile and social media monitoring platforms, and many more. I became the head of advanced research and development (R&D) at Genesys. New technologies were always fascinating for me and I had a great time working with researchers from Bell Labs for commercialization of the research innovations, spearheading cloud, analytics and AI transformations across all our business units. Then I went on to become the CTO of data platforms at Alcatel-Lucent (now Nokia).
Building solutions for business-to-business (B2B) customers, I felt a little disconnected from end users and decided to dive into consulting for the next phase of my career. It has been a great journey ever since, working with startups, enterprises and venture firms for a wide range of AI/Cloud/Kubernetes/security projects in chip design, healthcare, finance, insurance, military, supercomputers – building new platforms, leading technology transformations and performing due diligence for venture investment.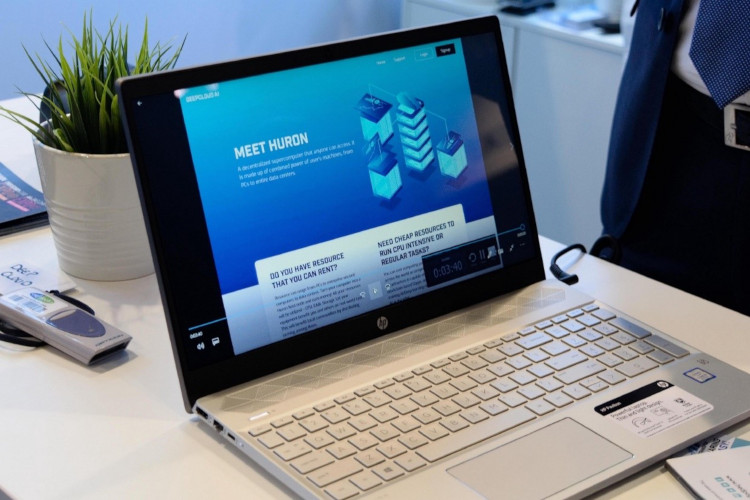 DeepCloud AI's Huron Platform unveiled at IoT Tech Expo North America, November 2018
What projects are you working on now?
As CTO of DeepCloud AI, I am building a decentralized cloud computing platform based on blockchain. We are like the [email protected] or AirBnB version of central cloud – where resource providers can monetize their excess compute capacity and application developers building decentralized applications like edge AI apps for IoT, dApps on blockchain, micro-services with special needs of running close-to-edge benefit from running their apps on our cloud. Our AI engine matches the application developers with the right resource providers based on the application needs. We empower cities and local communities to promote "buy local, use local" by democratizing cloud computing for resource providers and application developers. We just launched the first version of our platform at the Santa Clara IoT Expo and are working with Beta customers on pilots.
I am also working with Google Cloud Platform* service for a breast cancer diagnostics solution to demonstrate and promote the use of AI for good. We are building deep learning models for cancer diagnostics and will make this available as a tool for end users to upload their scans in a way that preserves privacy and gets immediate results. At the same time, data provided by users will be made available to researchers based on consent to help advance new solutions.
And, I am doing research on new techniques for privacy-preserving AI by combining the best of AI and blockchain.

Geeta on the AI panel at the 16th Annual System-on-Chip Conference, UC Irvine
Tell us about a technology challenge you've had to overcome in a project.
I started my deep learning model-building journey last year and found the tools quite lacking for doing large-scale distributed learning and running at scale. While open source tools like TensorFlow* have been a boon for AI developers, the plain open source version lacks the optimizations needed to speed up one's workflow. That's when I started experimenting with optimization libraries from Intel and others and started presenting talks on the topic to share my knowledge and inspire people to use AI for Good. Check out the talk I did earlier this year at Association for Computing Machinery (ACM) on Deep Learning for Medical Image Diagnostics.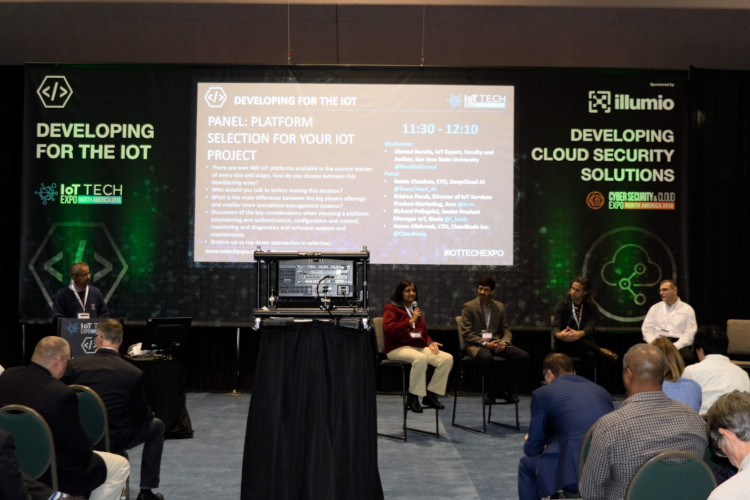 Geeta at the Panel talk on Platform Selection for your IOT Project, IoT Tech Expo
What trends do you see happening in technology in the near future?
We are fast moving into an era of AI-first solutions, where AI will become the new electricity leading to societal changes at the scale of the Industrial Revolution. I see a growing need for building ethical AI solutions where AI will augment us and enable each of us to become a super-human. We will have our own personalized AI agents for different parts of our life, interacting with our environment and things around us and helping us make better decisions. A future in which the aging population and people with limited/declining abilities will continue to live rich, productive lives.
I also see a future with each of us having ownership of our own data and companies paying us to use our data. Companies will have to start sourcing data ethically and make it "ethically sourced," just like fair trade coffee today. A future where transactions will become more transparent via blockchain, and integrating complex systems across enterprises like supply chains will become a breeze.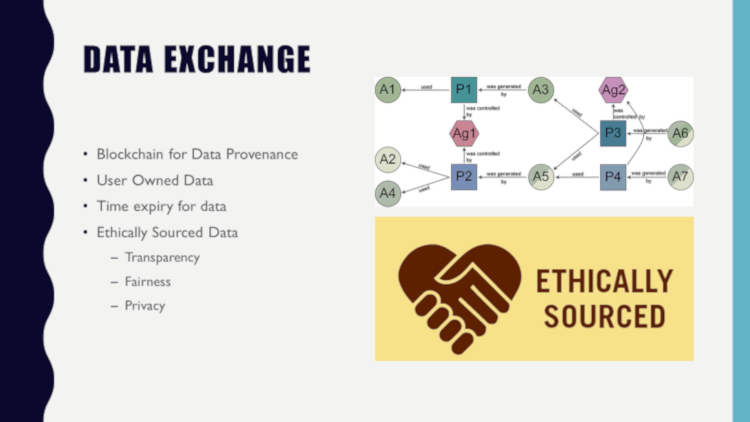 Outside of technology, what hobbies do you enjoy?
I love gardening and growing my own food, as "we are what we eat." I like to promote growing healthy food where one can start small with just planting a few tomatoes in one's backyard or even in containers. Once you eat these homegrown tomatoes, you will be amazed that they could taste so good. For best results, I suggest growing heirloom varieties.
I am also passionate about the environment and promote adoption of green technologies like installing solar panels on one's home, driving an all-electric vehicle, harvesting rainwater for your gardening needs, and recycling food scraps for making compost.
Many indigenous populations have a seven-generation plan when they roll out anything new in their society. We all should learn from them and think of what will be the impact of what we are doing 100 years from now – how we can ensure the future of Planet Earth and leave a legacy for generations ahead for a healthy and beautiful earth.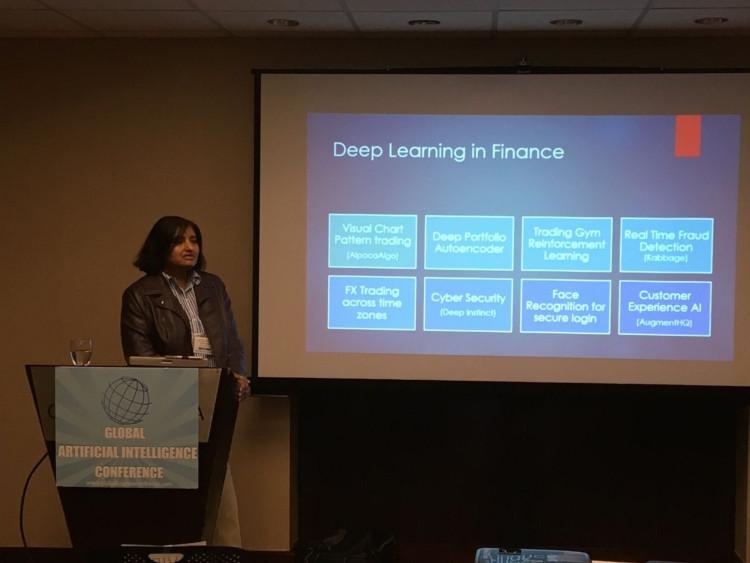 Geeta giving a talk on deep learning optimizations for finance
How are you planning to leverage Intel® technologies in your work?
I am already using Intel® Framework Optimizations and libraries for deep learning projects, Intel® Movidius™ Neural Compute Stick (NCS) for AI projects at the edge. In the next version of DeepCloud AI, I'll be adding support for Intel® Software Guard Extensions (Intel® SGX) for secure computation. See video below of my presentation on AI at the edge with the Intel® Movidius™ Neural Compute Stick (NCS) at Intel Global IoT Devfest.
How can Intel help you succeed?
By providing funding for women entrepreneurs, promoting teaching scholarships for people interested in teaching technology to our younger generations, and providing easy access to AR/VR technologies for building new types of educational tools for teaching people new skills as AI has a bigger impact on current jobs.